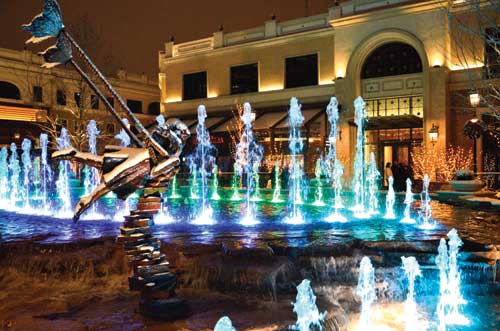 Moving within the United States from one city to another is much more common today. No matter the reasons for the move -- buying a house, looking a new job, leaving home for the first time -- it remains a major undertaking.

A host of factors play an important role in the decision where to move, including the quality of schools, the strength of the local economy and job market, safety, culture, and even climate. Americans facing this decision have much to consider.
To determine America's best cities to live in, 24/7 Wall St. reviewed data on the 550 U.S. cities with populations of 65,000 or more as measured by the U.S. Census Bureau. Based on a range of variables, including crime rates, employment growth, access to restaurants and attractions, educational attainment, and housing affordability, 24/7 Wall St. identified America's 50 Best Cities to Live.
According to Elise Gould, senior economist with nonprofit think tank the Economic Policy Institute (EPI), "most people move because of jobs." Indeed, for many families on the move, the prospect of obtaining a job is often the most important -- if not the only -- consideration. For this reason, 24/7 Wall St. weighed this factor heavily when identifying the best places to live.
Of the 50 best cities to live, 41 have unemployment rates below the national rate, and all but five have had faster recent job growth than the national job growth rate. Incomes in these cities, when adjusted for cost of living, exceed the national household income of $53,657 in the vast majority of cases.
The affordability of housing was another key measure in our assessment of U.S. cities. The median home value in all but nine of the 50 cities exceeds the value of a typical American home of $181,200. Since housing prices are often tied to local and statewide market forces, a particular city's home value was more often compared to statewide home prices. In all but a handful of the best cities to live, the city's median home value was greater than the comparable state figure. In six of the 50 cities, a typical home value was more than double the statewide value.
The ability to live safely in a given area is also a top priority for American families on the move. The violent crime rate, therefore, was another key measure when determining the best cities to live. Because violent crime rates tend to correlate with other measures of livability, these cities tend to have very low crime. The violent crime rate in the vast majority of the best cities to live is less than half the national violent crime rate of 365 per 100,000 residents.
Population growth was not part of our assessment of cities, but we excluded cities with negative population growth from our analysis. The most desirable cities to live in tended to have above-average population growths in the last decade.
As Gould observed, designing a singular index of this kind can be a challenge because people move to -- and either grow to love or hate -- a city for a variety of often-personal reasons. Indeed, while jobs are a major determining factor for a move, people often prefer to stay where they are because of other reasons. "And that could be city amenities, it could also be proximity to family and friends," Gould said.
Here are the 50 best cities to live in, starting with the Top 5.
5. Eagan, Minn.
> Population: 66,087
> Median home value: $243,200
> Poverty rate: 7.9%
> Pct. with at least a bachelor's degree: 52.1%
> Amenities per 100,000 residents: 186.1
With a population of more than 66,000, Eagan is not an especially large city. However, located just across the Mississippi and Minnesota Rivers from Minneapolis and St. Paul, Eagan residents do not have to travel more than 20 miles to access a major metropolitan area. Also, unlike the Twin Cities, Eagan is one of the safest cities in the country. Only 24 violent crimes were reported in 2014 making Eagan home to the sixth lowest violent crime rate of any city in the country. One possible explanation for the low violent crime rate may be the city's low unemployment rate. Only 3.3% of Eagan's workforce is out of a job, a lower unemployment rate than in all but 10 U.S. cities.
While the cost of living in Eagan is roughly 2% higher than it is on average across the nation, incomes are also higher. The typical U.S. household earns $53,657 annually. The median household income in Eagan, however, is $78,884 per year, about $25,000 more than the national figure.
4. Centennial, Colo.
> Population: 107,193
> Median home value: $328,800
> Poverty rate: 4.8%
> Pct. with at least a bachelor's degree: 56.3%
> Amenities per 100,000 residents: 383.4
Higher educational attainment usually leads to higher incomes, and while only about 30% of American adults have a bachelor's degree, more than half of all adults living in Centennial have a bachelor's degree. The typical household in Centennial earns more than $91,000 annually, about $30,000 more than the typical Colorado household. The city also has a low poverty rate. Only 4.8% of Centennial residents live below the poverty line compared to a poverty rate of 12.0% in Colorado and a national rate of 15.5%. Centennial high schools also yield better results than high schools across the state. Standardized test scores are about 6% higher in the area than they are across Colorado. Growing slightly faster than the U.S. population, Centennial expanded by 6.6% over the five years through 2014 to its current level of roughly 107,000 residents.
3. Johns Creek, Ga.
> Population: 83,108
> Median home value: $332,700
> Poverty rate: 4.5%
> Pct. with at least a bachelor's degree: 66.9%
> Amenities per 100,000 residents: 629.3
While Georgia generally fares worse than most states in many social and economic measures, Johns Creek residents benefit from high incomes, low poverty, high levels of education, and plenty of amenities. The median annual household income in Johns Creek is nearly $100,000, roughly double the state's median income. Also, the poverty rate of 4.5% is considerably lower than the the national poverty rate of 15.5% and even more so than the state rate of 18.3%. High levels of education among area adults partly explain the high incomes and likely improve the quality of life for the local community in a variety of other ways. Nearly 67% of adults in Johns Creek have at least a bachelor's degree, more than twice the nationwide corresponding education attainment rate and one of the highest of any city.
Johns Creek residents also have access to a remarkable number of leisure activities, especially restaurants. There are around 630 eating locations per 100,000 city residents, the second highest concentration of such amenities in the nation.
2. Danbury, Conn.
> Population: 83,795
> Median home value: $283,400
> Poverty rate: 11.5%
> Pct. with at least a bachelor's degree: 33.3%
> Amenities per 100,000 residents: 260.2
The best places to live are not necessarily affordable. Danbury, the best U.S. city to live in after only Meridian, is in Fairfield County, Connecticut, one of the most expensive areas in the nation. The cost of living in the area is nearly 31% higher than the national average cost of living. Housing expenses, in particular, are very high, costing 58% more than the nationwide average cost. Households in the city, with an annual median income of $69,394, are slightly less wealthy than households across the state. A typical home in Danbury is valued at $283,400, slightly higher than Connecticut's median home value of $267,200.
For many Danbury residents, however, the high standard of living may be worth the high cost. Leisure activities are easy to come by in the area. There are around 10 nature parks and 57 marinas per 100,000 area residents, each some of the highest concentrations of such amenities nationwide.
1. Meridian, Idaho

> Population: 87,739
> Median home value: $193,900
> Poverty rate: 10.9%
> Pct. with at least a bachelor's degree: 27.7%
> Amenities per 100,000 residents: 169.8
Meridian, located just outside of Idaho's capital city of Boise, is 24//7 Wall St.'s best city to live in. The city is safe, and jobs have attracted growing numbers of new residents. Only 80 violent crimes were reported per 100,000 in Meridian last year, a fraction of the national violent crime rate of 366 violent crimes per 100,000 Americans.
The annual unemployment rate in the city is also quite low. At just 4.1%, it is lower than the state's jobless rate of 4.8% and well below the national jobless rate of 6.2%. Moreover, jobs are being added to the local economy faster than in most of the United States. The 7.4% increase in the number of jobs from 2012 through last year was much greater than the national job growth rate of 1.8% over that period. Prospective employment is frequently the first priority for Americans considering relocation. With the strong job market, Meridian's population has been growing dramatically in recent years. Over the five years through 2014, the city's population growth rate of 28.0% was more than four times the nationwide population growth of 6.5%.
Like to learn more and find a great realtor that knows Meridian?