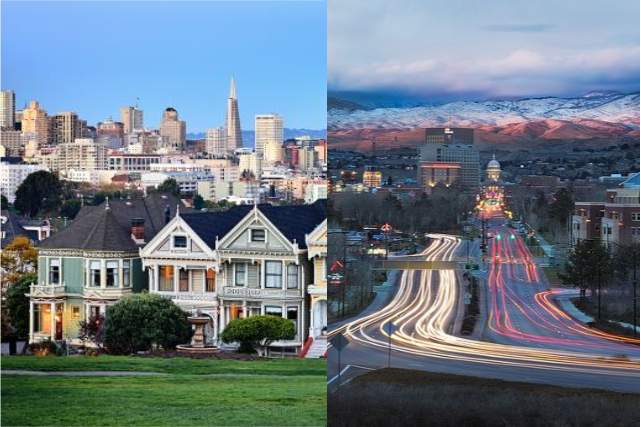 Should I ditch the Bay Area and move my family to Idaho?
Tired of Bay Area real estate prices and cost of living and love the outdoors and people without mega-egos.
By: Jean Marion
Jean Marion, Born and raised - 35 years
I was born in San Francisco and lived in the Bay Area for 35 years.
I moved from SF to Idaho 16 years ago. I was tired of paying every time I wanted to cross a bridge. I was tired of the dirty roads. I was tired of being afraid to walk around after dark. I was tired of my children getting beaten up in school. Tired of hearing about shootings at nearby locations. No matter how high our wages went, buying a house was out of the question.
When I started researching Idaho, the cost of houses was a major draw. A house that would have cost $800K in the Bay Area was only $200K here... Brand new homes, schools and stores were being built everywhere. This past decade the population of our city doubled.
We were shocked to be able to drive home during rush hour and not have to drive with our foot on the brake. We used to kid around that 3 cars at a stoplight was a traffic jam. When I found out that electricity was $30 a month and gas was $15 per month, I was completely blown away.
However, it is all relative. In order to make the move and find a comparable job, we had to settle for a 40% reduction in salary. That meant I had to go back to work to make up the difference. Although rent and utilities were less, clothing and groceries were the same price. So it was touch and go for the first year. Once we had a home built we were paying less on the mortgage than we had been on rent.
There was a sense of culture shock. It was strange to have cars stop when you wanted to walk across the road. It was odd to have fast food workers speak English, smile and say "Hi!" It was strange to read the newspaper or watch the TV news and have it not be about the murder or rape of the day... It would be about some marching band at the local high school. Very different...
Back then, smoking in restaurants was still legal. Riding motorcycles without helmets was legal. Kids riding in the back of the car without seat belts was legal.
We used to say that Idaho was the best part of California, because so many people we met up here were from California. It was like they all knew this wonderful secret, and we had just found out.
Well that was 16 years ago. Things have changed. Electricity is now $185 per month. Gas is now $45 per month. Home prices went higher and higher, but then eventually went back to where they had started before 2008. (Our house is only worth $20K more now than when we bought it...)
Now, rush hour delays our getting home by 15 minutes. There are now 10 cars at a red light. They are still building new schools but house building has slowed way down. It took 8 years to make up the salary difference and now we are earning more than what we used to in California. (I'm sure if we were actually in California we would be making even more...)
My husband and I moved up here with our 2 sons and my parents. It was a very hard month. Coming up, finding a home, finding a job, packing, driving, unpacking, I remember it as a nightmare. I don't suggest moving cross country during the heat of the summer.
There are places in Idaho that smell bad. It does have agricultural areas. So make sure when you are deciding on where to live that it is not near food factories, paper mills, dairy farms or crops. In the main larger cities, the farther away from the crops you can get, the more normal it smells.
There are 4 distinct seasons. Snow in the winter, but not too much as long as you are in a city. Light rain in the spring and weather in the 70s. Hot and dry in the summer with weather in the 90s. However, since there is no humidity, the heat is a lot easier to deal with. Most newer homes have air conditioning. Fall is gorgeous with all of the trees.
70% of Idaho is not accessible by car. It is only accessible by air or boat. Hunting, rafting and fishing are very popular. So are skiing and snowmobiling. We still aren't quite used to how friendly everyone is. We know all of our neighbors and that never happened back in SF. The kids actually play out on the street and ride their bikes and scooters around the neighborhood. Back in the Bay Area, they were only allowed to play in the back yard...
The laws have been changing. Now it is illegal to smoke in a restaurant, illegal not to wear seat belts and illegal to text and drive. Idaho is surrounded by states that allow medicinal marijuana, however, Idaho is so conservative that any law along those lines will always fail.
If you are a democrat there really isn't any point in voting... Actually there are so many republicans that there isn't really any point in voting for that party either. We do however vote in school elections and local issues.
Come to Idaho and spend a week... then go back home and see what your city is like. It is a very eye opening experience.