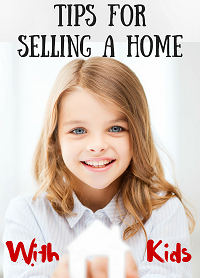 Whether it's the first time you're selling a home or it's the tenth time, there will be challenges throughout the home selling process. One challenge that some people may have experienced is selling a home with kids. Selling a home with kids presents a whole new set of hurdles that need to be overcome in order to have a successful home sale.
Selling a home can be stressful and difficult enough, but when you add kids into the equation of selling a home, it can make the process seem insurmountable. Homeowners who have kids need to understand what extra steps need to be taken in order for a successful home to take place.
If you're thinking of selling your home or are currently in the process of selling your home and have kids, below are some of the best tips for selling a home with kids. The below tips for selling a home with kids can make the home selling process less stressful for not only your kids, but also for you!
Make Sure Your Kids Know That You're Selling Your Home
One of the biggest mistakes that sellers who have kids make is they do not share with their kids they are planning on selling their home. Obviously at some point kids will figure out their home is being sold and the surprise can be painful for a kid.
Think about it, your kids may have grown up in your home, have lots of memories in your home, and have probably made lots of friends in the neighborhood over the years. If your child comes home from school one day and sees a for sale sign in the front yard, this can be very upsetting for him or her. This can even lead to your child getting so upset that they do everything in their power to make sure your home doesn't sell, such as leaving your home a complete mess.
Well before you list your home for sale, it's strongly suggested that you inform your kids that you will be selling your home. Explain to your kids why you've decided to sell your home and also letting them know about your future plans can go a long way. If you're able to show your kids where they will be living in the future and point out some of the positive characteristics of their new home and neighborhood, they may get very excited for the move and be on board with the sale.
Prepare Your Home For The Market
When selling a home, preparing your home for the market is important. The importance of preparing your home for the market when selling a home with kids is critical.
If you're selling a home with kids, one of the most important things to do before listing your home for sale is to make sure your home appeals to the masses. Even though your kid may love their bright pink bedroom walls, the likelihood that the majority of buyers walking through your home will not love the bright pink bedroom walls is high. It's suggested that when selling a home with kids that you neutralize the colors of the rooms. Another tip when selling a home with kids is to depersonalize the home, some examples of depersonalizing a home may include;
Removing murals from walls
Removing the report cards, spelling tests, and other personal items from the refrigerator
Removing kid posters from bedroom walls
Removing kid themed wallpaper
Removing action figures, stuffed animals, and toys from dressers and shelves