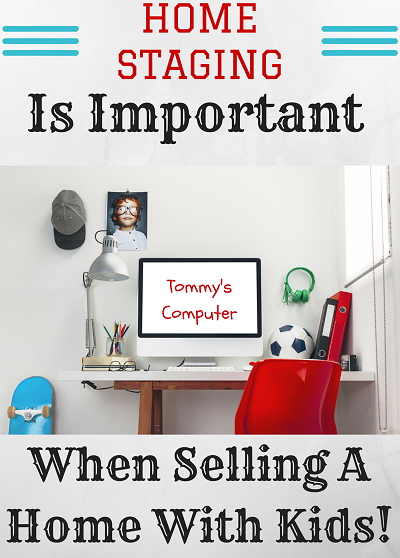 When selling a home with kids, it's important to stage your home properly. There are many people who believe staging is the main reason why a home sells which is not the case, however, to successfully sell a home with kids requires proper staging. Similar to preparing a home for the market, it's important that when selling a home with kids the home is staged to appeal to the masses.
When selling a home with kids it's important that the rooms in your home are clearly defined as to what they are used for. For example, a bedroom that has been used as a playroom for your kids should be converted back into a bedroom or home office. This simple staging tip can make a huge difference as it will help appeal to the majority of prospective buyers who are walking through your home.
It's important to remember when staging a home for a sale, less is more. This is especially true when selling a home with kids. There are many common features that home buyers are looking for in a home and many buyers who are unable to overlook lots of "stuff."
Secure A Storage Unit, Facility, Or Space
Homeowners who have kids understand how fast things can accumulate. One new toy here and another new toy there, before you know it your home is overtaken with toys and belongings. It's important when selling a home with kids that you secure the proper storage facility or designate a space for storage. While you're packing your kids belongings away make sure you do not pack away every single one of their toys but that you pack away the majority of their belongings. Most kids will have two or three favorite toys that you can make sure are readily available for them.
One method that is becoming increasingly popular is the use of PODS, also known as a portable on-demand storage unit. There are many variations of PODS. One of the most popular PODS are units that are delivered to a homeowners driveway, packed with the homes belongings, and taken off site for storage. Another popular type of POD is one that is stored on-site in the homes driveway. PODS are becoming increasingly popular since in most cases it is less expensive than obtaining a storage facility.
Some homeowners who are selling their home with kids do not want to move their belongings into a storage facility or unit for various reasons. If you're unwilling to secure a storage unit or facility, it's important that you designate a place in your home that will be used for storage. It isn't a good idea to store all your belongings in a bedroom or the living room, but store your belongings in an area that is not heavily used. Some of the best places to store your belongings include;
Garage
Attic
Basement
Shed/Outbuilding
Whether you decide to purchase a storage unit or decide to designate a space for storage, it's important that when selling a home with kids you neatly organize your belongings. Make sure you have plenty of boxes or storage containers and also that they are clearly labeled in the event you need to find an item that has been packed away.