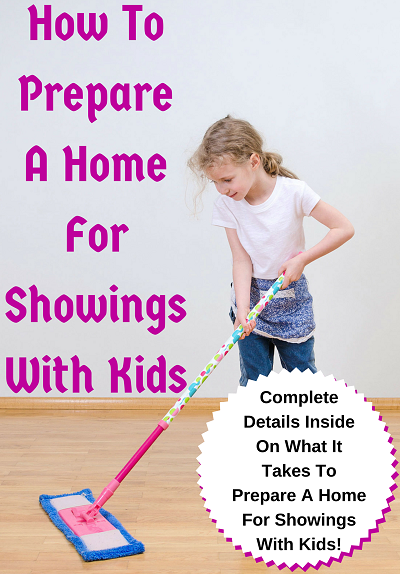 When selling a home with kids, it's important you choose a real estate agent who has experience in selling homes with kids. A real estate agent who has sold homes in the past where there were kids involved will know how much is involved with showings and the preparation for showings.
If you happen to choose a Realtor who doesn't have experience in selling a home when kids are involved, you should inform your Realtor that you need at least three or four hours notice for showings. While three or four hours may not seem like enough time to prepare a home for showings, you need to remember that a seller who is not flexible with showings greatly reduces the chances their home will sell.
What specific steps should be taken to prepare a home for showings if you're selling a home with kids? Some of the most important tips for preparing a home with kids for showings include;
Clean floors and counters
Clean up all toys
Clean up all clothing
Check underneath dressers and beds for your kids belongings
Make sure there are no foul odors present in your home
Make all beds
It's also important that if you have kids and you're preparing your home for showings that you don't neglect the outdoor living areas. Before you leave for a showing, do a quick walk around your home and make sure there aren't toys laying scattered throughout your yard. The exterior of your home is the first thing a buyer will see and if your kids toys are scattered everywhere it can give a negative impression to a buyer before they even get inside your home.
Have A Game Plan For Showtime!
Now that your home is ready for showtime, it's important you have a game plan in place. When selling a home with kids, you need to understand that your home maybe shown several times in any given day. This may mean that you maybe away from your home for several hours throughout the day.
It's important that you know what you and your kids will do during showings. Some great ways to spend the time with your kids during any showings of your home may include;
Go to the movies
Go to the mall
Go to the library
Go to an amusement park
Go to a park
Go to a friend's house
Go to the grocery store
If you have infants, it's also very important that you have a bag ready and packed of the most important items your kid may need. These items may include formulas, diapers, and toys.
Determine Whether You Want Open Houses
A lot of real estate agents will insist that homes sell as a direct result from an open house. This statement is not true and the statistics show that less than 5% of homes sell as a direct result from open houses. When selling a home with kids, you need to consider the PROS and CONS of open houses and determine whether they will be worth it or not.
In most cases, I would suggest to a homeowner who has kids that they do not have open houses. The biggest reason why I would suggest not having open houses is because of the time spent away from the home during an open house. Some open houses will last two or three hours, which is a lot of time to have your kids cooped up in a car!
Final Thoughts
Selling a home can be stressful and when you add in the extra element, kids, it can make it even more stressful. Remember when selling a home with kids, your home may not be "perfect" but you need to take the extra effort to ensure your home is as close to "perfect" as possible. By following the above tips for selling a home with kids you will greatly increase the chances your home sells in a short amount of time and for the maximum amount of money.